Asha Indiwave Set Top Box in Mumbai and Gujratm I
Asha Indiwave Set Top Box in Mumbai and Gujratm I
Asha Electronics Pvt. Ltd. is an ISO 9001:2008 certified company with experience of 30 years in providing OEM & Electronic Manufacturing Services ( EMS ) in Mumbai, Maharashtra, and in Daman, Near Gujarat in India. It has a State of the Art....
Price : Rs 0.00
05-April-2019
Compnay Information
0
YRS
Asha Electronics Pvt Ltd
Member Since : 1982 | Normal Member
F-16, MIDC, Opp. Seepz, Andheri (E) - 400 093 Tele. +91-22-2834 5675 Fax +91-22-2836 3147, Mumbai, Maharashtra, India
2228345675
Accepted Payment Currency by you :
USD
Accepted Delivery Terms by you :
Payment Method you accept :
T/T,L/C,CC,Escrow,Paypal,cash/cheque
Average Lead Time / Day(s) :
Nearest Port :
Mumbai & Jawaharlal Nehru Port
Accept Escrow Services :
Yes
Service Description
---


Asha Indiwave Set Top Box

Asha Indiwave is the Digital Set Top Box brand of Asha Electronics. The SONA model incorporates unique features required for Indian Set Top Box market: Asha Indiwave's registered technology " Bijli Kavach" protects the Set Top Box against any variation or surges in the main power and works from 60V to 440 Volt AC. The unit is built in with 100Watt PMPO Stereo Amplifier , 1000FTA video channels, Satellite Radio Channels, Full Function Remote, Electronic Program Guide, Multi Language support, Simultaneous TV Mosaic for easy channel selection and 5 exciting games. It is DVB-S/ MPEG2 complaint.
Features :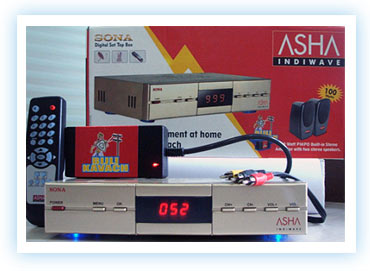 | | |
| --- | --- |
| | Bijli kavach adaptor 60 volt to 440 volt |
| | 100 Watt PMPO stereo amplifier |
| | DVB-S/MPEG 2 compliant |
| | Stores 1000 FTA V channels |
| | Satellite stereo radio channel |
| | Robust full function remote |
| | Electronic programme guide |
| | Simultaneous TV mosaic for easy channel selection |
| | Exciting games |
| | Multi language support |
| | Software upgrade through RS232C port |
| | Antenna positioning system |
| | RF modulated output |
| | Low power consumption less than 15 Watt |



New Launches
Telecom Power Inverter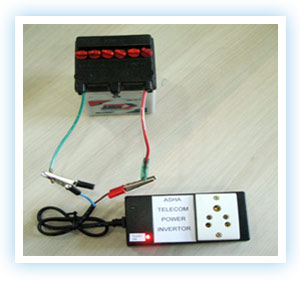 A low cost sturdy Invertor aimed to charge Mobile Phones/ FWP/ FWT. The said Invertor would run on a 12 V Battery available in Bikes/ Tractors/ LCV's etc. The Telecom Invertor can also light up a load equivalent to a medium powered CFL lamp.
FM Radio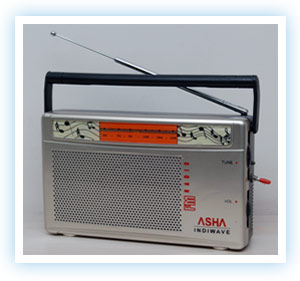 The Asha Indiwave FM Radio is a unique combination of Religious Mantras with FM Radio. The two modes can be selected with the flip of a toggle switch. The unit comes with a Power Adapter and also runs on batteries. It plays FM Radio and a choice of five Mantras. Has a unique disc antenna for good quality FM reception.



Support
Asha Electronics recognizes the ever changing nature of customer demands. Asha Electronics engages with customers to appreciate specific needs and provides value-added services in designing and engineering. Asha electronics provides PCB layout Design services, generating Gerber data & output files required for manufacturing bare boards. Asha Electronics uses most appropriate Hi-Tech tools to suit requirements of variety of different customers. Asha Electronics assembly services are complemented by front-end product development capabilities including strong CAD layout and design experience.
Images
---
Videos
---
Please Login To Give The FeedBack.
Send your message to this supplier